Many Insurances Accepted
Have out of network insurance?
Call

888.512.5020

to verify your benefits.
Addiction Detox Center with Luxury Accommodations
Hill Country Detox is a Joint Commission-accredited sub-acute detox facility located in Buda, Texas, offering safe and comfortable drug and alcohol detoxification for men and women. Our luxury, Mediterranean-style center is fully staffed with licensed and experienced addiction specialists who provide personalized monitoring and management of withdrawal symptoms around-the-clock. Each individualized detox program is designed to provide the highest quality treatment for overall wellness and recovery. We are proud to offer you or your loved one the following services:
Medically-supervised detox and management of withdrawal symptoms
On-site medical team 24/7
Complimentary car service to and from the Austin-Bergstrom International Airport
Comprehensive personal assessment
Individual and group counseling
Case management and dc planning
Family support
Semi-private room with flat screen TV (private rooms available upon request)
Delicious chef-prepared meals and snacks
Individualized treatment plans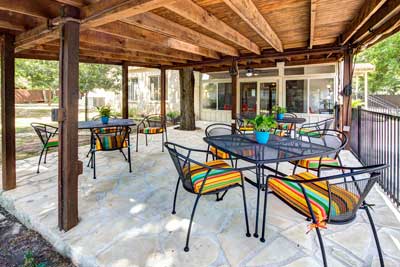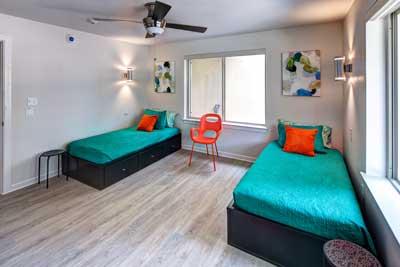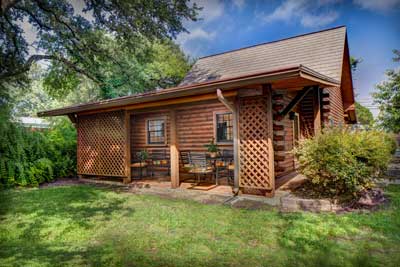 Substances and Addictions We Treat
We offer a number of medically-supervised detox programs and management of withdrawal symptoms for all addictive substances. The duration of your treatment plan will vary based on the substance(s) being taken and your individual circumstances. Our detox programs include:
Quality, Individualized Care
Each personalized treatment program is created based on the results of a need-finding clinical and medical assessment. This process allows us to closely evaluate your circumstances so we can design a program that best meets your needs. Your detox program will be comprised of a solid framework of treatment components that are designed to provide well-rounded treatment and preparation for continued rehabilitation.
Under the guidance of board-certified psychiatrist, Frederick Wilson MD, our experienced medical staff will begin treatment and closely monitor you to maintain your safety and comfort during withdrawal. During this time, our multi-disciplinary team will develop an individualized treatment plan outlining issues to be addressed and achievable goals towards your recovery. Our treatment team will also provide recommendations for your continued care after detox such as residential treatment or outpatient services, and help to oversee your transition into these levels of care.
Quick and Easy Admissions Process
Hill Country Detox offers a free consultation and a simple, confidential admissions process. Our knowledgeable admissions advisors are available to help you 365 days a year. Whether you're calling for yourself or on behalf of a loved one, we can provide more information about our programs, complete your screening, quickly verify your insurance coverage and schedule a convenient admission time and date—all in one phone call. Fill out the contact form below or call today to get started.
Hill Country Detox
Call Us Now – 888.512.5020
Hill Country Detox
Call Us Now – 888.512.5020
Or text us and we will call you back.
Confidential Consultation
Take the first step in your recovery and call us today at 888.512.5020. Includes detox for Opiates, Oxycontin, Hydrocodone, Heroin, Barbiturates, Alcohol, Benzodiazepines, Valium, Xanax, and other addictive substances.
Our admissions advisors are calm, caring, and confidential. They can help you make the right choice for yourself or your loved ones. Please call today!
What Is Adderall? Adderall is referred to as the "study drug" by those that abuse it, but its true medical purpose is to treat symptoms of attention deficit hyperactivity disorder (ADHD). It is also sometimes used to treat narcolepsy.1 This stimulant drug is a...